Fooddive
HumanCo, a CPG holding company, took a majority stake in plant-based frozen dessert company Coconut Bliss, which makes pints of ice cream as well as frozen sandwiches and bars. Financial…
Lire la suite >>
Arbiom's SylPro, made from fermented wood pieces, just finished a proof-of-concept test showing it can replace more traditional soy, pea and wheat proteins in meat substitutes.
Lire la suite >>
Mexico-based Sesajal, a producer of oils, grains and seeds, took a minority stake in plant-based snack brand Rhythm Superfoods, according to a release sent to Food Dive. Terms of the…
Lire la suite >>
Through licensing deals, the foodmaker's iconic brands are carefully extending both to merchandise and new food experiences, a company vice president told a virtual conference.
Lire la suite >>
Whole Foods and Kroger's King Soopers banner had the highest overall scores among plant-based food sellers in terms of product assortment, merchandising and marketing, according to a report from The…
Lire la suite >>
The biggest challenges food processors and equipment and service suppliers have had during the coronavirus pandemic include workforce issues, big changes in the way business is conducted, dealing with the…
Lire la suite >>
Food and nonalcoholic beverage is the only sector of the economy projected to post positive growth in 2020, according to a Euromonitor analysis. A chart made by the retail analysts…
Lire la suite >>
The Upcycled Food Association created a task force of academic, nonprofit and industry leaders who just released the first official definition for « upcycled food. » The group said implementing a single…
Lire la suite >>
Experts and executives talked to Food Dive about navigating the risks and rewards of pouring capital into these products without federal legalization.
Lire la suite >>
Edlong will form a joint venture with Radient Technologies to create and market cannabidiol flavor systems for food, beverage and pet food. The flavor and ingredient maker plans to combine…
Lire la suite >>
McCormick, the maker of packaged foods and seasonings, unveiled an app to help home chefs learn more about its products while they shop, per an announcement shared with Mobile Marketer.…
Lire la suite >>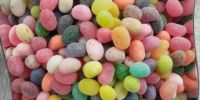 David Klein, who created Jelly Belly jelly beans in 1976, has started a company called Spectrum Confections to sell CBD-infused jelly beans.
Lire la suite >>