Forbes
Canadian startup Relocalize plans to launch its first automated ice factory this month in a shipping container in Florida in partnership with Southeastern Grocers, the parent company of Winn-Dixie and…
Lire la suite >>
Brother-and-sister duo Christopher and Jennifer Jane, best known for their waggish Victorian era outfits and wigs when pitching on Shark Tank in 2021, has raised a fresh capital to bring…
Lire la suite >>
Between population growth and rising economic status, global demand for food protein is expected to continue to increase for a few more decades.
Lire la suite >>
Salty snacks company Benestar Brands, which operates across the U.S. and Mexico, has acquired premium pork rinds producer 4505 Meats. Insiders estimate the deal size is between $50 million to…
Lire la suite >>
As demand for plant-based meats continued to grow over the past year, companies feeding that demand kept on developing new products despite the pandemic.
Lire la suite >>
Kroger is experimenting with a high-tech grocery cart that lets shoppers scan items as they go and leave the store without waiting in a checkout line in its latest push…
Lire la suite >>
Ayeshah Abuelhiga's love of restaurants stems from her childhood. Abuelhiga founded the Mason Dixie Biscuit Company in 2014 with the idea of bringing authentic Southern comfort food made with real…
Lire la suite >>
It's been over 25 years since food packaging started displaying its nutritional contents. It's since become second nature to check the calorie, sugar, salt, and fat content of food or…
Lire la suite >>
Days before Noops' website officially went live, the New York-based food startup has already received a number of orders, sending a clear signal that U.S. consumers are hyped up about…
Lire la suite >>
PepsiCo (NASDAQ: PEP) has seen much volatility in its stock price in 2020 so far. PEP's stock declined by about 27% from $142 as on 31st January 2020 to $104…
Lire la suite >>
Many of world's largest animal protein producers are failing to address their environmental, animal welfare and human health impacts, a new report suggests. Now in its second year, the Coller…
Lire la suite >>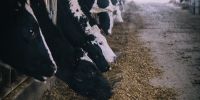 A decade ago (even more recently in some places), coffee shops had, at most, one non-dairy milk alternative, and it was usually soy. Other alternatives existed, but if you wanted…
Lire la suite >>