Grocery Dive
The grocer's latest podcast episode delved into why it is exclusively a brick-and-mortar business — and why it intends to stay that way.
Lire la suite >>
Although they might be different in scope and design, the grocers' investments in e-commerce technology could play a significant role as regulators evaluate the impact of their proposed merger
Lire la suite >>
FreshDirect recently announced in a blog post to customers that it is exiting the Philadelphia and Washington, D.C., markets this week. Final deliveries will be made on Saturday.
Lire la suite >>
DoorDash on Wednesday announced its entry into same-day flower delivery, partnering with more than 3,000 local and national florists ahead of the Valentine's Day rush, according to a press release.…
Lire la suite >>
After one of the most tumultuous years in recent memories, experts say 2021 will be the year grocers move from reacting to strategically managing for long-term growth.
Lire la suite >>
The pandemic has upended how consumers plan to celebrate, prompting CPG companies to reduce product sizes, tout offerings for novice cooks and shift more resources online.
Lire la suite >>
The heads of three Canadian grocery chains told a House of Commons committee late last week that while they were in communication in the weeks leading up to June 13,…
Lire la suite >>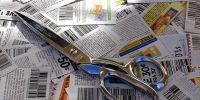 ree standing insert (FSI) print promotion activity, measured by coupons dropped, fell 12.4% during the first half of 2019, according to a new analysis by Kantar Consulting sent to Grocery…
Lire la suite >>