New york times
Plant-based beverage makers hailed the agency's decision but objected to the recommendation for labels to specify the nutritional differences with cow's milk.
Lire la suite >>
In Germany's capital, workers are striking, congestion is on the rise and the German bodega — the spätkauf — is under threat.
Lire la suite >>
Gourmey, a start-up based in Paris, received an additional $10 million in seed funding this week. The company hopes to find a market in the United States amid growing concerns…
Lire la suite >>
The tax on salt and sugar in processed and restaurant-made foods was among several measures proposed in a sweeping review into England's food industry.
Lire la suite >>
Walmart+ will cost $98 a year to receive free delivery for orders over $35. The company hopes to build on the success of its pickup grocery business.
Lire la suite >>
The Other Bar lets the snacker decide how to give back: help a farmer or plant a tree.
Lire la suite >>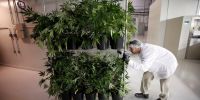 What does a beer company do to hedge against slowing growth in its main business? In the case of the parent company of Corona, the answer is to invest heavily…
Lire la suite >>