Community Investment is part of our overall commitment to Corporate Social Responsibility and the way we do business.
We consider it a priority to give back to the communities where we operate. With more than 2,400 store locations across the country, we recognize and act on our responsibility to help these communities – from our commitment to healthy living, through the products and services we offer and our support for programs and organizations focused on health and nutrition and the environment.
As a member of Imagine Canada, we have pledged to donate at least 1% of our pre-tax profit per year to charitable and non-profit organizations across Canada.
Corporate Giving
Loblaw Companies Limited is Canada's food and pharmacy leader. From coast-to-coast, our network of stores provides customers with grocery, pharmacy, health and beauty, apparel and general merchandise.
Our approach to Corporate Social Responsibility (CSR) is driven by our Company purpose – Live Life Well. Through our CSR principles of sourcing responsibly, respecting the environment and making a positive difference in communities, we aim to be a leading contributor to Canadian society both today and for generations to come.
Our charitable giving is focused around those CSR Principles and we prioritize our investments based on the urgency of the issue, its importance to our customers and colleagues and the ability for the Company to make a meaningful difference.
Our principal charitable activities center on tackling childhood hunger, putting women's health first and funding research that helps advance solutions to sustainable food challenges.
• PC Children's Charity believes nothing will create better conditions for success than feeding and nourishing children. In 2017, the Charity announced a commitment of $150 million over the next decade to tackle childhood hunger and deliver nutrition education to children across Canada through two new strategic pillars: (a) Feed Kids Good Food to fuel their day; and (b) Feed Kids Knowledge to empower them to make healthier, more responsible and better informed food choices. As one of Canada's largest charitable funders of school nutrition programs and through new and existing partnerships, the Charity will feed and help teach children the importance of nutrition and how it affects their well-being. The Charity has been fighting childhood hunger since 2008 and over that time has granted over $33 million to organizations that fed over 450,000 children annually.
• SHOPPERS LOVE. YOU. – Putting Women's Health First – is committed to helping women stay focused on being their best in body, mind and spirit. The program shares the expertise of its partners at leading women's health organizations, offers new health resources, and connects women with others in support of local women's health initiatives across Canada. Over the past six years, SHOPPERS LOVE. YOU. has contributed $60 million, benefiting over 200,000 Canadian women.
• Loblaw Companies Limited and George Weston Limited – we provide seed funding for interdisciplinary research or technology development that help accelerate solutions to sustainable food challenges. Our thematic focus is on production, distribution and consumption initiatives. Research outcomes should impact primarily Canadians, but also deliver key learnings towards issues of global concern.
Store Giving
At the local level, we are pleased to provide our stores with the support required to be an active citizen in their communities. We provide our stores with resources to fund events and projects that benefit their neighbourhood. Our stores have the ability to donate gift cards. These can be used as auction items or to purchase needed items from the store. Requests that benefit the community and do not exceed $500 can be submitted directly to the local store.
Our Partners
Loblaw's community investment strategy is a journey and we are committed to ensuring our contributions pave the way forward in making a positive difference in Canadian communities. Here are some examples of Loblaw's partners: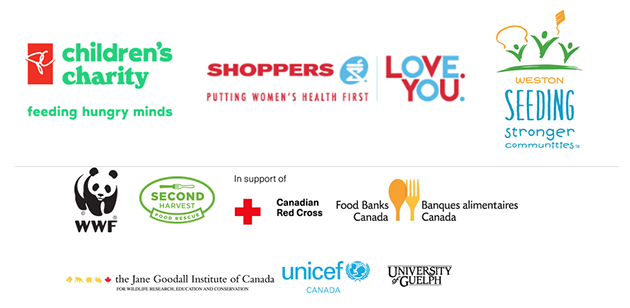 How to Apply
Our charitable giving is focused around national strategic initiatives that align with our company purpose and business priorities. We also support local, community-based initiatives and organizations.
If your organization has a program to directly help those in your community, aligned to the initiatives listed above, we may be able to help.
We consider:
• Projects, programs and organizations that align with Loblaw's identified initiatives and social responsibility pillars
• Organizations that are federally registered charities with the Canadian Revenue Agency
• Projects or programs that take place in communities where Loblaw operates
• Charitable organizations that provide direct community service
We do not fund:
• Individual pursuits
• Third-party organizations raising funds for charity
• Religious organizations, with the exception of secular activities open to those of all faiths, such as operating a shelter or a group program, or unless the organization is engaged in a significant project benefiting the entire community
• Donations to political or advocacy groups, private schools, pre-schools, elementary and high schools
• Endowment or capital campaigns
• Conference, seminars, events or golf tournaments
• Donations to groups whose operating areas are outside of Canada
• Travel-related events, including student trips or tours
• Sports teams or leagues
• Fundraising activities, including sponsorship of tables, contests, door prizes, raffles, auctions or advertising